Phew! That was a lot of info for one title!
Lots of sweet fun and excitement going on here my friends!

But first, how are YOU doing? I hope you are well.
Let's go through that title backward, shall we?
First up is the winner of the Virtual Color Analysis; Mrs. Hilda Keeney! I will be in touch with Hilda this afternoon and I can't wait to find out her color season and the colors that will look best on her.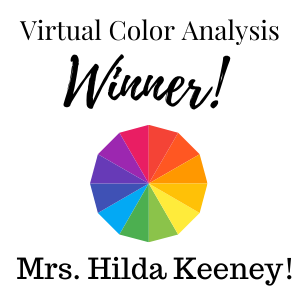 I plan on this being a monthly occurrence, so stay tuned! You could be the next winner!
Next up is the Wedding!
Oh my goodness, friends. First of all, I am deeply touched and honored that this wonderful young couple would choose our home and land to have their special day. Makes me tear up just thinking about it.
Images of the show the Walton's come to my mind as the big day is planned for September. Did any of you ever watch the Waltons and do you remember The Wedding episode? Surrounded by family, friends, and the beautiful outdoors, Mary Ellen married her sweetheart, Curt. It made my heart flutter when I saw that as a little girl.
That is what the day will be like for our young friends and I am so excited for them!
With an event as special as a wedding, it is time to spruce up the outside and inside of the house, so you can be sure to see lots of posts coming up that not only have to do with fashion, but with home decor too!
And finally the fashion post; How to wear 1 dress, 6 Ways.
Although I love to buy new clothes, I get much more of a thrill when I use what I already have and come up with different looks with timeless pieces.
Earlier this week, I watched a video by Marie-Anne Lecoeur of The French Chic Expert feature one dress worn five ways. I loved that idea and have a Gingham or as the French say "le vichy" dress that was perfect to style.
Below is what I came up with with my Black & White Gingham Dress by North Style. It is fully lined and I have had it for probably 8 years. I started to give it away last year, but am so glad I didn't!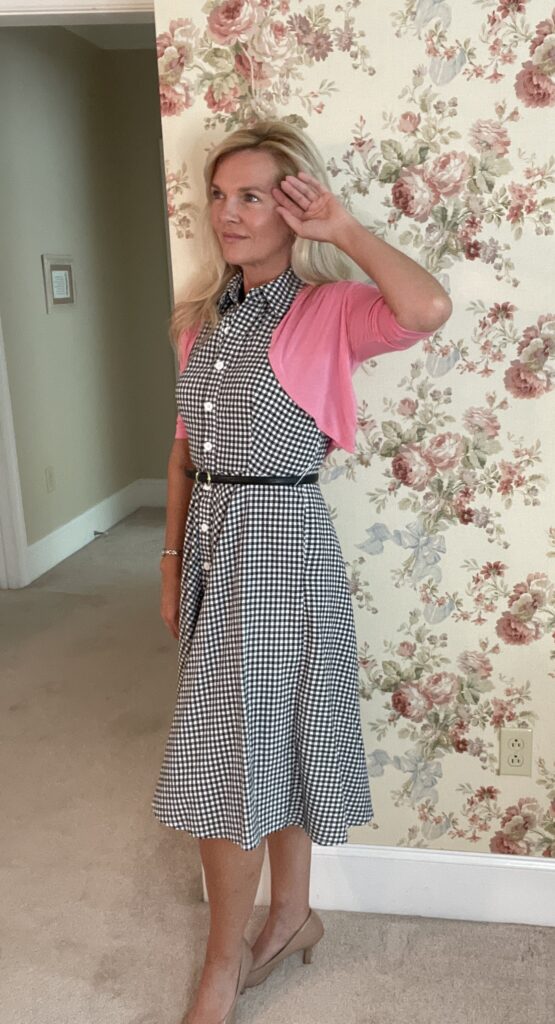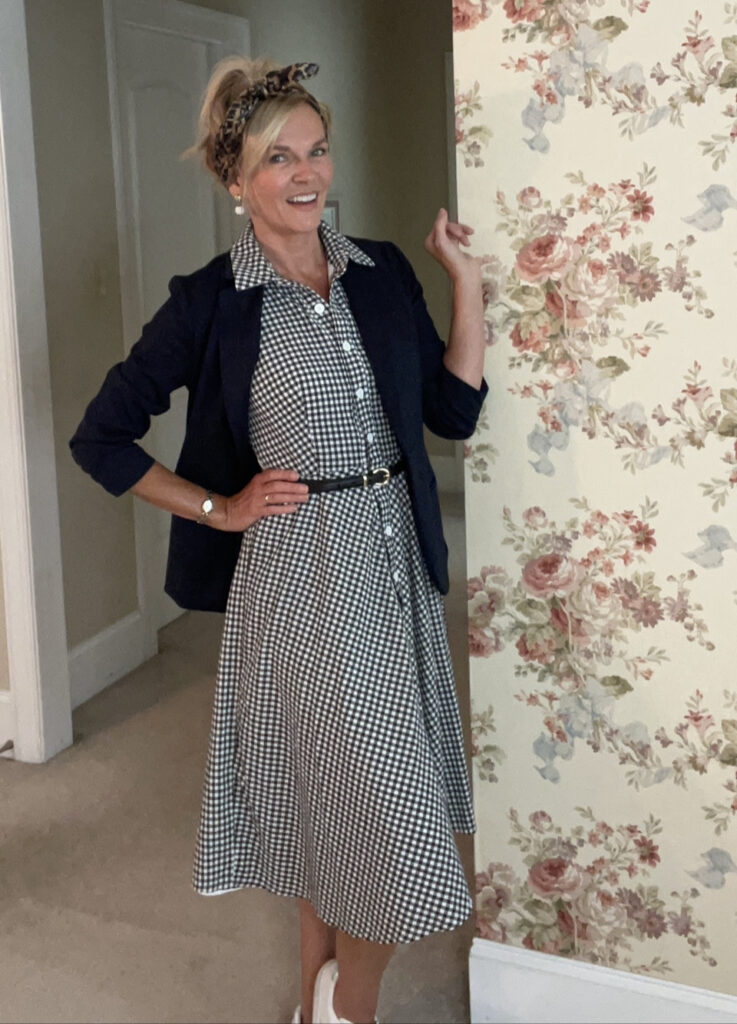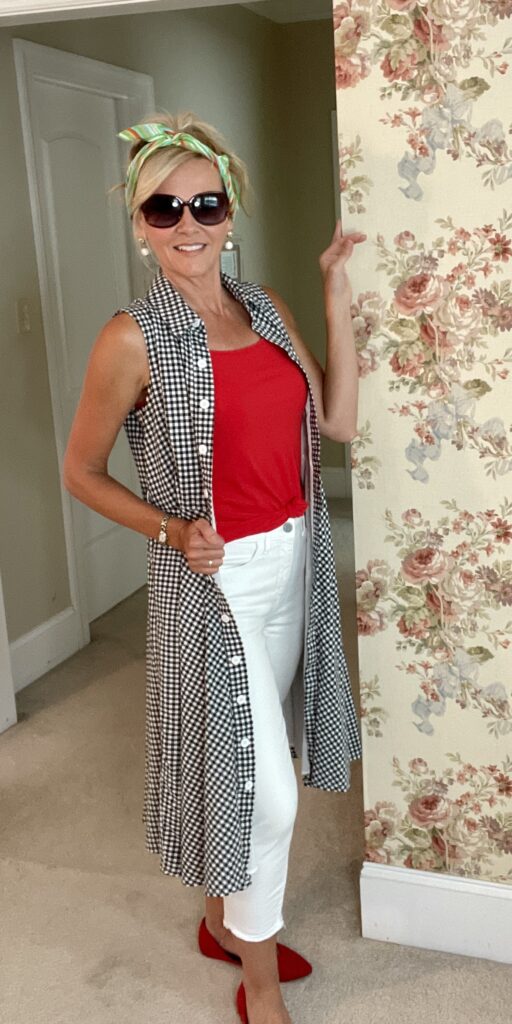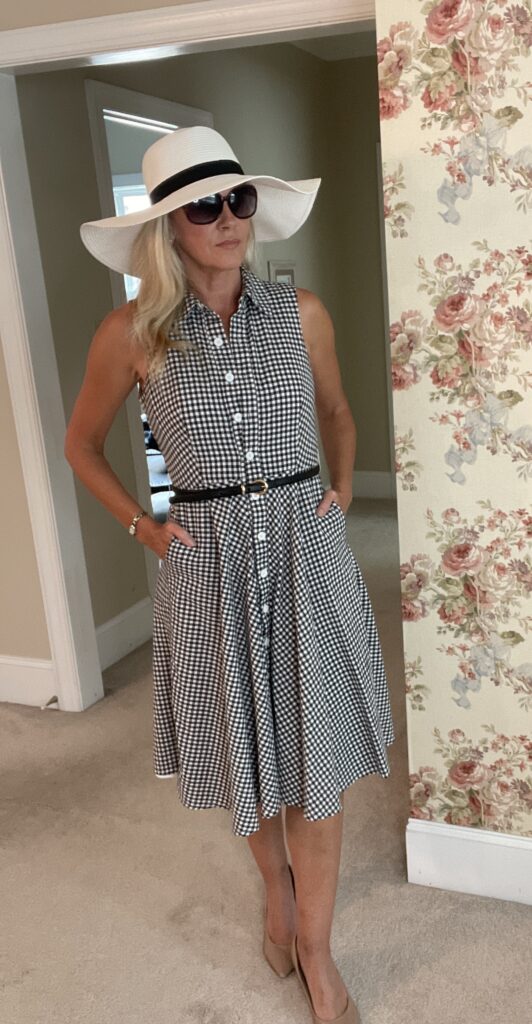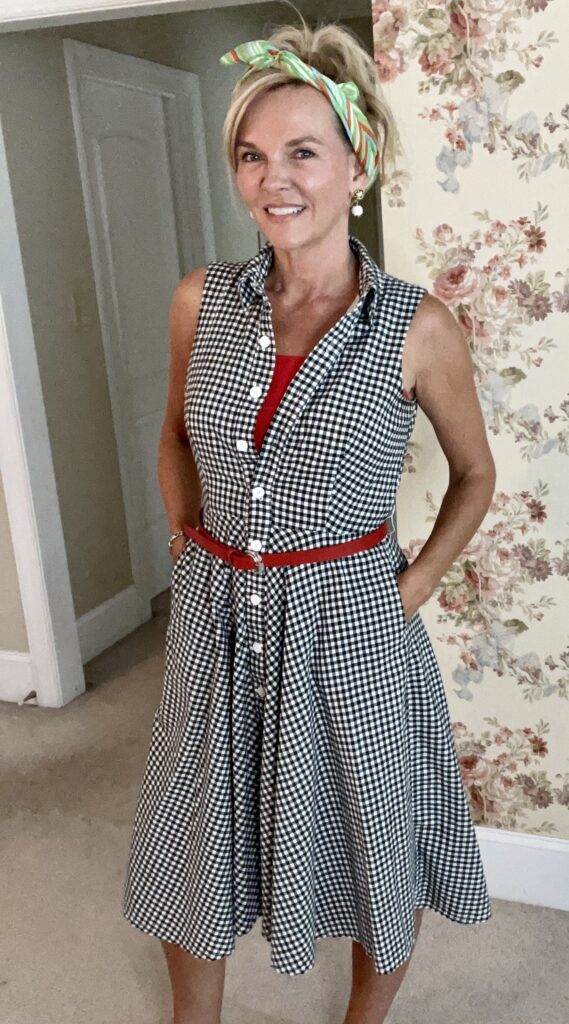 So, tell me, which look did you like best and do you like the thrill of discovery in your closet or do you prefer to just buy new>
A quick note on my garden. The tomatoes are coming in faster than we can eat them. I have 7 pumpkins and they are already turning orange on the vine, and the dinner plate dahlias are shining bright and beautiful!
If you're a garden lover, be sure to watch the You-Tube Video above to get a look at it.
As always, I appreciate you stopping by. Your comments and readership mean so much to me.
Until Next Week,
xoxo,
Lindy