Hi friends!
Each day this week, I will show you a different vintage homemaking skill.
It's not only fun but also practical to know how to do some of these forgotten home arts. I hope you enjoy learning them!
Following is the recipe for Lindy's Perfect Cream; a beauty cream that I have made and sold for years.
Good luck making it and if you need help, please let me know.
In the video, I doubled the recipe so you will see a difference in ingredients. If this is your first time making this, just make the small batch first.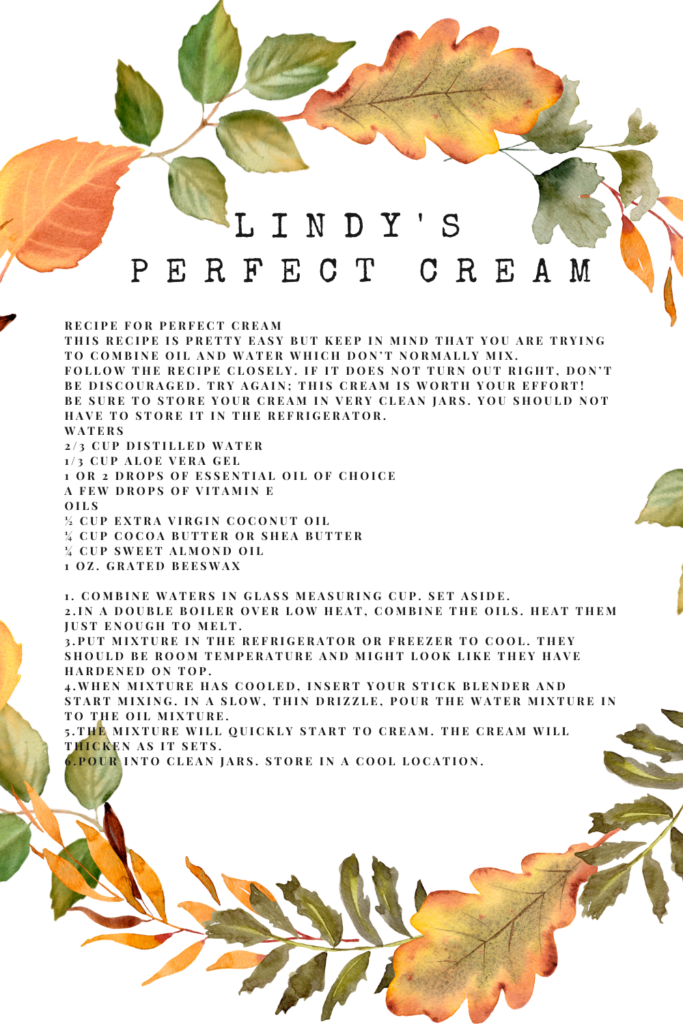 Recipe for Perfect Cream
This recipe is pretty easy but keep in mind that you are trying to combine oil and water which don't normally mix.
Follow the recipe closely. If it does not turn out right, don't be discouraged. Try again; this cream is worth your effort!
Be sure to store your cream in very clean jars. You should not have to store it in the refrigerator.
Waters
2/3 cup distilled water
1/3 cup aloe vera gel
1 or 2 drops of essential oil of choice
A few drops of vitamin E
Oils
½ cup Extra Virgin Coconut oil
¼ cup Cocoa Butter or Shea Butter
¼ cup Sweet Almond Oil
1 oz. grated beeswax
 Combine waters in glass measuring cup.  Set aside.
In a double boiler over low heat, combine the oils.  Heat them just enough to melt.
Put mixture in the refrigerator or freezer to cool.  They should be room temperature and might look like they have hardened on top.
When mixture has cooled, insert your stick blender and start mixing.  In a slow, thin drizzle, pour the water mixture in to the oil mixture.
The mixture will quickly start to cream.  The cream will thicken as it sets.
Pour into clean jars.  Store in a cool location.
You can buy some of the products at these Amazon links. *Please note; I am an Amazon Affiliate and I do receive a small commission when you buy from my links.
Cocoa Butter https://amzn.to/3k5bXof
Sweet Almond Oil https://amzn.to/3C7Lqx0
Bees Wax Pellets https://amzn.to/2XksgFi
Rosemary Essential Oil https://amzn.to/2XdbcRk
Lavender Essential Oilhttps://amzn.to/3Cc5s9F
As always, thank you for stopping by!
xoxo,
Lindy