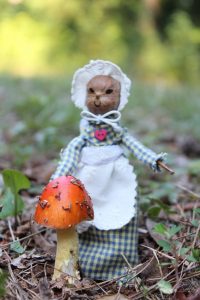 Spending most of my time outdoors and reading lots of books as a kid, shaped me into the person I am today. I believe that being in nature and not having too many "store-bought" playthings, helps cultivate a flowing imagination and a wonderful childhood.
When I was in the 2nd grade, I found a little book in the library by Carolyn Sherwin Bailey. It was called Miss Hickory and I fell in love with the little doll with the apple twig body and a hickory nut for a head.
Miss Hickory is a story that centers on nature. Most of the characters are animals, and the changing seasons play an important role. Miss Hickory has quite a hard life after she loses her corn cob house to a squirrel and has to go live in a birds nest.
The ending is bittersweet and I won't spoil it for you here, but I encourage you to read it again to yourself or read it aloud to your own children or grandchildren.
When my children were small, I read it aloud to them and they loved it so much that we made our own Miss Hickory doll. We even made a dollhouse for her and furnished it with tiny cooking equipment. I don't know who enjoyed it more, me or my children. 😉
To grab your own copy of the beloved book, click on the Amazon link here.
Thanks for stopping by!
Lindy