7 For as he thinketh in his heart, so is he: Eat and drink, saith he to thee; but his heart is not with thee.
This is one of my favorite Bible verses and I think of it often when my head is not in the right place.
When we unpack the verse it shows a person who is saying one thing with their mouth—but their heart is in a completely different place. The thoughts and inclinations of the heart shape the reality of who you are. They shape your thinking which will ultimately shape your actions.
What does a bible verse have in common with style? Well, a lot actually.
I learned many years ago that I could 'make' my heart feel better by the simple act of getting up, brushing my teeth and hair, and putting on a fresh outfit, all the way to the shoes.
There were days that I felt weary from raising and homeschooling three children and just wanted to slip out of bed and do school in my pajamas. When I did that, it set the tone for the rest of the day. A smelly, unkempt, disorderly tone.

Our entire schedule was disheveled – just like my appearance.

But, I found that if I made just an extra bit of effort and got up and dressed and went downstairs to greet the day (like it was my job) the day flowed much better and everyone was happier.
Why? Because my heart was happier and that radiates out to EVERYTHING!,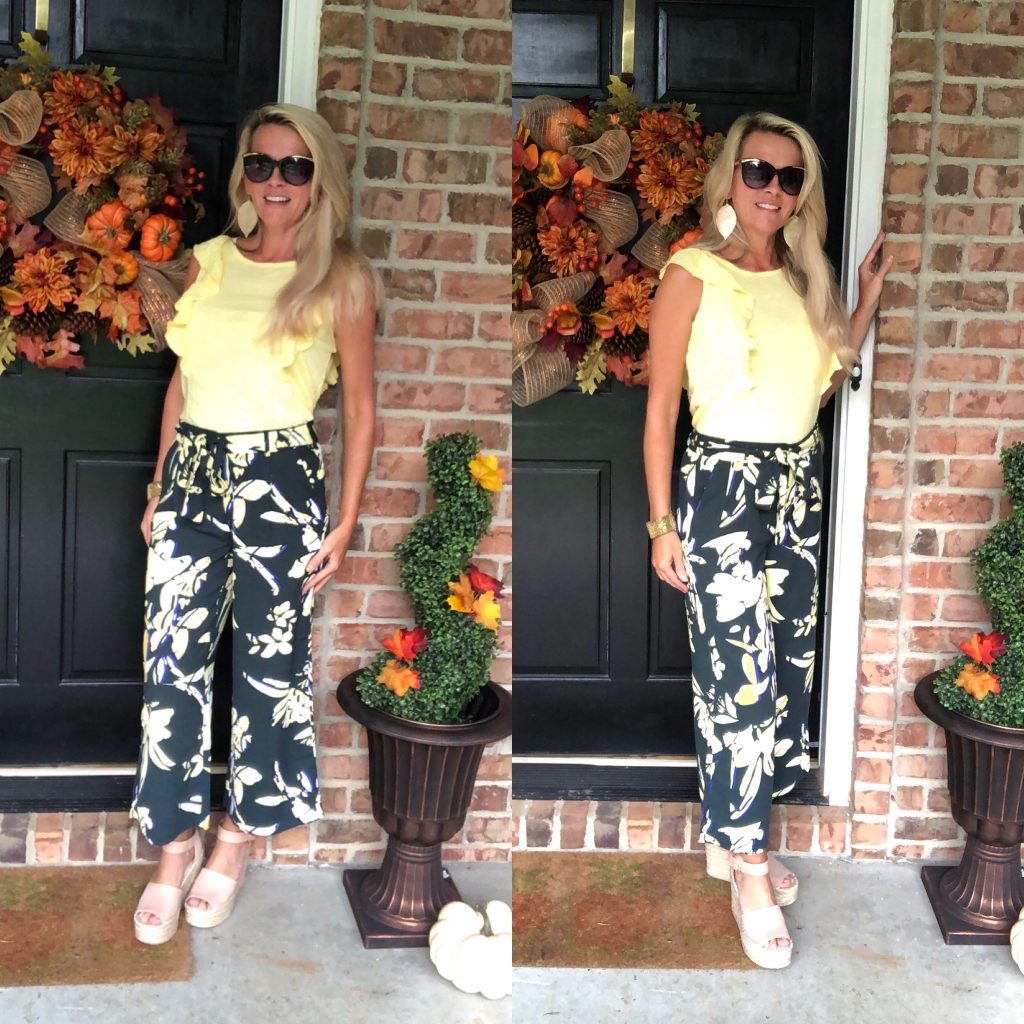 Yesterday felt off. It was one of those rainy, muggy, summertime is over feeling days and mentally, I didn't feel so great.
I didn't want to put on my good clothes; I wanted to wallow on my unmade bed in my nightclothes, but there was work to be done, and I needed a positive attitude and a happy spirit to do it well, so I got up and got dressed.
My mood lifted when I got up and got dressed down to my shoes! Even if you are not going anywhere, putting on your shoes makes you feel like something exciting is about to happen!
Clothing from Nordstrom -Wide Leg Crop Pants by Halogen in Green, Ruffle Trim Top by Calson in Yellow. Shoes- Marc Fisher LTD Alida Espadrille Platform Wedge.
As always, I appreciate you being here and reading my blog. If you are new here, drop a comment below and say hello!
xoxo,
Lindy